Company policy at work does not allow us to listen to music through headphones, but they do allow us to use radios. Not willing to settle for the same boring radio programming every day, I decided to buy an FM transmitter for my iPod touch. Amazon had an iCandy FM transmitter for $10, and I decided to try it out.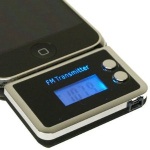 I've tried tape adapters before, but they didn't work nearly as well. A full-logic home tape deck usually doesn't accept them as valid tapes, while others were still a tight fit. Once I finally got the tape working, the sound quality was so terrible that it wasn't worth the effort.
As soon as it arrived, I was pleasantly surprised to find a functional USB car charger, mini USB cable, and remote control in addition to the transmitter itself. (I remember buying a car USB charger for $20 before... what a deal!) Since I wasn't going to use this in a car, I put these things aside after trying them out.
Appearance and Overall Quality
The unit feels fairly cheap, and looks out of place connected to my iPod touch, but what do you expect for $10? The back is covered in a nice rubbery material while the front is glossy black plastic with a silver plastic band around it. The two tuning buttons (more below) require some force to press.
Features
If it isn't obvious from the picture, this transmitter plugs directly into an iPod's (or iPhone's) dock connector. The unit features a blue backlit LCD and can be tuned to any station from 88.1 through 107.9. I set it to 97.5 and the unit remembers it.
Performance
I didn't expect much reception-wise; the 33-foot range seemed a bit farfetched. By placing it directly under a boombox at work, I'm able to get a nice clear signal, but a radio 20 feet away usually has trouble getting a good signal. Due to the nature of radio waves, I found that looping the boombox's power cord over the transmitter allows the further radio to get a far clearer signal.
Remote control
The remote control works, but feels ridiculously cheap and I honestly can't see where it will come in useful.
Charging and the included USB cable
The unit comes with a standard mini-USB cable that plugs into the bottom of the transmitter. (It's not an iPod dock connector cable, and thus does not allow syncing.) The design supports my theory that this is not an Apple-approved accessory, but the cable works for charging the device and for connecting other USB devices to a computer.
Conclusion
All in all, this is a cheap FM transmitter that works great for my purposes.
[Also posted on TechCores.com]