The days of small, square CRT monitors are over. Bigger, wider, and higher-resolution monitors now dominate the market. But how does one properly make use of all of this extra space? I run into a good deal of people who simply don't understand how to take advantage of this extra room, and hopefully this article will teach you how.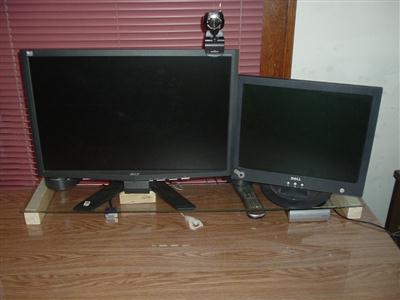 Bigger Is Better? Usually.
"Resolution" means the number of pixels on a monitor. (I assume you know what a pixel is.) If you have a 19" or larger widescreen monitor, it's probably sporting a resolution of at least 1440x900 pixels, if not 1680x1050 or 1920x1080 (to name a few).
This is considerably bigger than the 1024x768 screens of a decade ago. How much bigger? If you calculate the difference in pixel count from a typical 1024x768-pixel monitor to a modern 1680x1050-pixel monitor, you get:
(1680 * 1050) / (1024 * 768) = 2.2431...
The 1680x1050 monitor has over twice as much screen room as the smaller one! And if you have a 30-inch 2560x1600-pixel monitor, it has 5 times as much screen area as its 1024x768 counterpart of 10 years ago. Too bad most people don't know how to make full use of it all. I even know several people who complain about their new monitors being "too big"!
Full-screen or Windowed?
Those migrating from smaller monitors to larger ones – myself included! – make the simple mistake of continuing to run everything maximized (filling up the entire screen). While we more or less had to do this on smaller screens, there is really no reason to run your web browser maximized on a 22" screen.
Simply put: larger monitors are designed to be used with windows. You're supposed to put two, or three, or four, windows on the same screen for increased productivity. Open up your web browser on one side of the screen, open 2 chat windows and your media player on the other. Instead of switching between windows using the taskbar (or dock, on a Mac), you can simply have everything in front of you.
If you run your browser fullscreen on such a large monitor, you'll no doubt notice one of two things:
There's a ton of wasted space along the edges of the screen, and the main content area seems ridiculously small in proportion.
The text stretches all the way across the screen, requiring you to repeatedly move your eyes back and forth and double-check to make sure you don't lose your place. There's a reason that books were made to be a certain width.
Running the browser in a window big enough to fit the website, but not too big as to cause the above problems, alleviates these issues.
When should I use fullscreen or maximized programs though?
The "maximize" button isn't going anywhere soon though. Why not? Because some programs genuinely benefit from running in full screen. While a web browser and word processor should usually be run in a window, something like Microsoft Visual Studio or Adobe Premiere runs better in full screen (at least on "medium large" as opposed to "ridiculously large" monitors). This is because of the sheer amount of toolbars, tool windows, tracks, controls, and sections of the window that can be found in such programs. Notice, in the below screenshot, how much actual "usable area" there is in Firefox versus Visual Studio.

Note that the "work area" of both Visual Studio (left, running fullscreen) and Firefox (right, running windowed) is equal, as indicated by the shaded portion.
What if I don't like to do things the way you describe?
It's your monitor, and thus your choice. But believe me, I went through the same dilemma back in my day, and in the end, I'm glad that I put things in windows now. It doesn't hurt to try something new, does it?
Dual (or Triple, or Quad...) Monitors
Once you've mastered window management, and now that you've seen the productivity wonders that a larger screen can bring, it's time to move on. Why stick with one screen when you can have two, three, four, six, nine (!!!) screens? Buying a second monitor (or even using your old one in conjunction with the new one) will make quite a difference... unless, of course, you're the type who only runs one program at a time.
Native Resolution: Why Is My Monitor Blurry?
It's important to run your monitor at its native resolution. A higher resolution provides better image quality and lets you fit more items on the screen. However, a side effect of this is that everything appears smaller and sometimes hard to read. Every LCD monitor has a fixed number of pixels on the screen, and while it's tempting to crank down the resolution to make everything bigger, don't do this.
Why not? Since the number of pixels on the physical screen is different from the number of pixels in the input signal coming from the computer, the monitor must "guess" at some of the colors (this is known as interpolation), which results in blur. When you run at the native resolution, the physical pixels on screen and the pixels in the input signal from the computer match up exactly, resulting in a perfectly sharp image the way the manufacturer intended.
Aspect Ratio: Don't Squash Everything!
Modern monitors come in one of two "widescreen" aspect ratios: 16:10 and 16:9. (Older "square" monitors usually made use of a 4:3 aspect ratio.) Note that the bigger the resulting fraction is, the "wider" the screen becomes.
It surprises – and amuses me to no end – when I see a large 22" monitor not only running at a sub-optimal resolution, but running at a non-widescreen one at that. This produces a blurry and squashed (or stretched) image, and while you "get used to it" to some extent after staring at it for hours, it's still quite disconcerting when your slightly-overweight full-body picture appears to have gained 30 pounds.
Posted on Thursday, May 20, 2010 at 8:40 PM
|
Permalink