TrayMenu is a convenient popup menu that appears as an icon in the notification area (or "system tray") populated with shortcuts of your choice. This is similar to the built-in Windows toolbar functionality but takes up significantly less space on your taskbar (and allows for the use of separators). Use it to launch programs, control devices, or run arbitrary commands.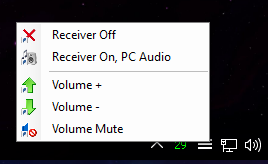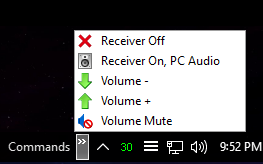 How to use
Create a folder named "Shortcuts" in the same directory as TrayMenu.exe. Add one or more Windows shortcuts. It's that easy!
Shortcuts are sorted in alphabetical order of filename. To create a separator, add a blank file with a ".separator" extension. The separator will likewise appear in alphabetical order.
You may create sub-folders to better organize your shortcuts. These will display as sub-menus.
Icons are determined by Windows Explorer. You can change the displayed icon for a given shortcut by editing the shortcut's properties.
Suggested uses
Control external devices
Use EventGhost or a similar program to configure hardware commands – in the example screenshot, EventGhost sends commands to an IR blaster which controls an audio receiver. You can just as easily configure commands for smart devices (such as lights) in your home. As long as the device in question can be controlled via a command line or URL, you can create a shortcut for it and TrayMenu can launch it.
Extend Multiscreen Blank
Multiscreen Blank includes its own notification area icon with numerous useful commands. However, you may have more complicated configurations that are only accessible via command line or batch file (such as dimming a set of screens that aren't part of a group to a specific level). TrayMenu allows you to apply this configuration with 2 clicks (1 click to open the menu, 1 click to choose the configuration).
Minimalist Start menu / taskbar pinning replacement
Use TrayMenu to launch frequently-used programs while maintaining an uncluttered desktop, taskbar, and Start menu. This is especially useful on Windows 8 when you want to launch a program without opening the Start screen.
License
You are allowed to use TrayMenu with virtually no restrictions. However, you may NOT use this software as part of your own projects or compilations without permission from the developer.