I have been using my LG 600G phone from Net10 (Tracfone also carries this model) since July 2009; it was my first actual cell phone with service, although I have had a good deal of experience with old out-of-service phones. Now that I've ordered my Samsung Epix, the LG will be going into my phone collection drawer, hopefully for good. But in tribute to it, I will write a nice review.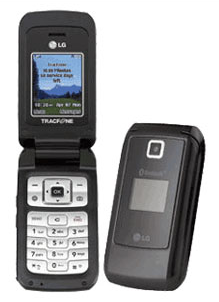 Let's start off by saying that this phone is terrible. (Of course, you must remember that Net10 phones are some of the cheapest phones you can buy.) I chose it for the features, but never expected it to be so poorly designed.
Features Overview
I bought this phone for its feature set. It supports Bluetooth for hands-free headsets and, more importantly for me, file transfers. It also supports custom ringtones and wallpapers, and has a camera, dual color displays, WAP browser, support for MMS (multimedia messages), caller groups, voice recorder, and more... a pretty solid feature set for a Net10 phone.
Texting
I can multitap quite fast, thanks to the experience I've had with peoples' old phones since I was 8. I actually prefer multitap over T9 (or other predictive text methods) thanks to my typing speed. However, the LG 600G was horrendously disappointing. If you are even considering purchasing this phone for texting: don't do it!
A picture may be worth a thousand words, but an animation is worth a thousand pictures. The first one is more or less how I can type on most multitap phones. The second one is my LG 600G.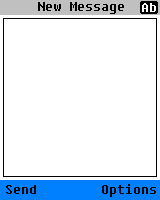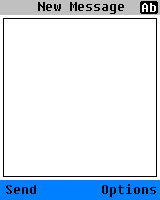 The three main issues with texting on the LG 600G, as can be seen in the above animation, are: the horrendous lag, the lack of an indicator for the active letter (no black rectangle), and the lack of a "skip letter" function. In other words, not only does the phone lag while pressing keys, but it also requires you to wait a full 2 seconds if you want to type two letters from the same key (such as "no" and "kk").
User Interface
In light of the above texting animation, the user interface is equally laggy. Menus are designed quite well, but the lag finds its way into every corner, including the menu, photo gallery, camera, and browser.
Bluetooth
The LG 600G is one of the few Tracfone/Net10 phones that allows file transfers over Bluetooth. Backgrounds, ringtones, and applications can be copied to and from the phone, either to another phone or to a computer. (Note that none of the stock backgrounds, ringtones, and apps are transferrable or deletable.)
Camera
The LG 600G's camera is nothing special, and I didn't expect much from it. It does include a brightness adjustment, CCD quality settings (Super Fine, Fine, Normal), multi-shot mode, self-timer, white balance adjustment, color effects (Normal, Sepia, Mono, Negative), and your choice of 3 shutter tones.
Calling
Calling works well about half the time. I can usually hear people well, and the speakerphone functionality helps if I can't hear them for some reason. However, I often run into a problem where I can hear the caller just fine but they cannot hear me at all. It happens randomly.
Cellular Connection
Tracfone/Net10 is an MVNO (Mobile Virtual Network Operator). This means that they do not own any cell towers, but rather lease time from other companies. The majority of Tracfone handsets are GSM, and thus use either AT&T or T-Mobile, while CDMA (Verizon) models are offered in locations that do not have GSM coverage. Mine was assigned a T-Mobile SIM card, effectively making me appear as a T-Mobile customer.
The phone gets a signal in most places, but one issue I've run into was that it would pick up the stronger AT&T signal but would not register on the network (due to the roaming agreement in the area). Most phones include a "Network selection" feature to combat this, but my LG 600G does not have it, although the online Tracfone manual mentions this setting.
Web browser
The browser is a standard Obigo WAP browser, with limited CSS support (background colors and small images are supported). When I first bought the phone, I was only allowed to access Net10's site, which offered downloadable graphics, ringtones, and games. However, Net10 has since unrestricted the mobile web and allows access to nearly any site.
Ringtones
The LG 600G supports MIDI (polyphonic) and AMR (real music) ringtones, which can be purchased via the browser or transferred via Bluetooth or MMS. MIDI ringtones sound fairly good in terms of quality, but AMR tones sound clipped and distorted (this is due to the low quality nature of the AMR format). You can also record your voice and use that as a ringtone. It does not support MP3 ringtones, and even if it did, its scant 4MB of storage would barely hold one song.
Random lockups
Occasionally, I will receive an incoming call but will be unable to answer. Opening the phone does nothing, and no keys respond. The only way to correct this is to remove and replace the battery (which, of course, drops the call).
This sometimes happens on its own, in a different form: I will pull the phone out of my pocket and it will prompt for my security code, but the keypad will be completely unresponsive.
Conclusion
In conclusion, the LG 600G boasts a great feautre set for a cheap ($40) Net10 phone, but performs terribly. Maybe I just got a lemon, but the texting lag seems to be a widespread problem. Should you buy one? I don't recommend it, as Net10 now offers better models.