My ThinkPad's original battery now lasts less than an hour, which is explainable due to its age. It was time for a replacement, but Lenovo charges a whopping $159 for their 7-cell battery (it's the only one they now carry for my model). Well, what did I do? I decided to take a shot at a non-OEM battery: the AGPTek Li9. Here is my review, after owning it for nearly two weeks.
The Good
Age and condition
The battery came in a sealed package, brand-new, never used. After installing it in my computer, I opened up Lenovo Power Manager to take a look at its properties. This battey was manufactured in December of 2009, thus is fairly new. It holds its advertised capacity of 48 watt-hours.
Capacity
This is a 4400mAh battery, which seems to be a huge improvement over my old 2600mAh one. However, it only puts out 10.8 volts (because it uses 3 li-ion 3.6-volt cells wired in series), thus has an actual capacity of 48 watt-hours. My old battery put out 14.4 volts, thus had a capacity of around 38 watt-hours. (Having differing voltage levels is quite normal; during the normal operation of a li-ion battery, voltage levels can fluctuate.) It's not as huge of an improvement as one may think, when comparing a new 4-cell from Lenovo and this 6-cell from AGPTek.
Life
The Li9 currently gives me around 2.5 hours of battery life, which is quite good, especially compared to the old 4-cell. When waking from sleep, the power gauge sometimes goes screwy and displays a much-higher remaining time, which is caused by the very small amount of power used during sleep, hence the 5:29 in the taskbar. Although I know my battery will never last that long in reality, it's still quite interesting to see.

The Bad
Of course, being a $43 non-Lenovo battery, it can't be expected to live up to the same expectations as a $159 one. I expected to have some issues with it before I made the purchase.
Random loss of power
The laptop has hibernated on me twice without warning, with the battery still holding a good amount of charge. Both times, a balloon stating "0% Remaining" (or something like that – it didn't display for long) popped out of the taskbar, and the computer instantly began hibernating. Upon powering on, Windows displayed a warning stating that the system was shut down due to insufficient battery power; however, allowing the system to boot normally revealed that the battery still had a good deal of juice. Not only that, but it worked fine.
Rearward extended design
A con for some, not all: this is an extended battery, which literally extends beyond the back of the laptop. At least it doesn't prop the laptop up at an angle like HP's extended batteries, though some people actually prefer the latter design.
Build quality
This isn't such a big deal, but although the battery fits and matches the style of the laptop, it doesn't click into place the same way the old one did. Removing it is also slightly more difficult, and the latch mechanism seems cheap.
The Ugly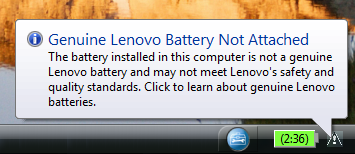 Yep, that's right. Lenovo Power Manager pops up this annoying warning every time you plug in (or unplug) the AC adapter, log on, resume from sleep, or power on the computer. And the worst part is, the typical "X" on the balloon tip does not exist, so I am required to right-click on the power gauge and then click on the desktop.
Conclusion
In conclusion, the AGPTek Li9 is sub-par to a genuine Lenovo battery, but it can't be beat for the price. Even though I don't expect it to last longer than a year, I can buy three of these batteries for the price of one Lenovo battery, with money to spare. Let's just hope it doesn't explode... though the famous exploding Dell laptops used genuine OEM batteries.