My Sound Blaster Audigy 4 was a great card, no doubt about that – however, its spotty driver support and lack of hardware acceleration on Windows Vista and 7 made it almost painful to use. After a long while of dealing with random driver reinstalls, distorted audio, and other similar issues, I decided that enough was enough and bought myself a used X-Fi Platinum.
The X-Fi Platinum is not the newest card in Creative's lineup, nor is it the top-of-the-line model, but it is undoubtedly a high-end sound card. (I won't get into really high-end stuff like external DACs here...) Not only does it sound amazing, but it also has nearly full driver support on Windows Vista and 7.
So let's get to it!
Breakout box
A defining characteristic of the X-Fi Platinum is the I/O drive bay. (The card itself is otherwise identical to the X-Fi Xtreme Music.) This is the older drive bay design with loads of useful connectors: optical I/O, coaxial I/O, headphone out, MIDI, mic input, and RCA aux input. This comes in very useful when recording, for instance.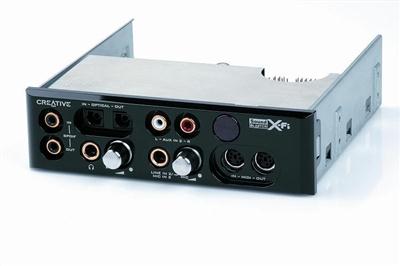 The newer X-Fi Titanium series also includes a drive bay, and while it looks considerably sharper, it contains only a few connectors and some fairly useless buttons.
Audio quality
The sound quality difference was quite noticeable, in ways both good and bad. When listening to a CD, the sound is almost breathtaking on my Polk Audio Monitor 30 speakers – it'll probably be even better with better speakers and a higher-quality source.
MP3 files, however, sound worse on both ends of the spectrum, because the higher-quality hardware seems to bring out all of the imperfections. Bass is muddier and less defined, and there is a good amount of distortion in the higher notes when the Crystallizer is enabled (more on this below). (Note that this is a direct comparison between MP3 and CD; the difference was less noticeable on my Audigy 4.) Sadly, most of my music is in MP3 format. Oh well.
Crystalizer
The Crystalizer makes a positive difference when listening to a CD – Tool's "Lateralus" album felt more lively, especially in the treble range. It adds clarity without adding the nasty, annoying hiss commonly associated with treble.
On the other hand, the Crystalizer brings out the imperfections in a bad recording or even a poorly-encoded MP3 file or YouTube video.
Modes
X-Fi cards are known for their 3 modes – Gaming, Audio Creation, and Entertainment.
Gaming Mode
This mode is the default, and allows easy access to most X-Fi features excluding recording features, and encoders such as Dolby and DTS.
Audio Creation Mode
This mode allows the finest control over your audio, and provides a powerful virtual mixing board complete with 4 auxiliary channels, faders, routing controls, and more.
Entertainment Mode
This mode provides a convenient user interface for using the most common playback features. It also provides a user interface for Dolby and DTS settings, useful when watching movies encoded in these formats.
THX Console
Not really a "mode", but the THX Setup Console allows you to specify many advanced settings related to multichannel speaker configuration.
Connectors
The back panel of the X-Fi contains 3 gold-plated analog outputs, a FlexiJack, and an AD_EXT connector. The AD_EXT connector allows the connection of an I/O Console (which comes with the X-Fi Elite Pro). The FlexiJack can accept a microphone/line input device or act as a digital output. This is a poor design in my opinion – ever consider someone who has a high-end digital receiver and still wants to Skype his friends? – but the S/PDIF connectors on the front panel make up for this flaw.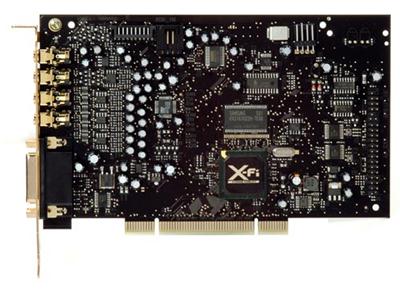 Inside, there is an IDE-like header labeled AD_LINK, and a DIGITAL I/O segment on it. These are used with various front panels (like mine) or PCI S/PDIF brackets. The included ribbon cable allowed an easy connection between this header and the front panel I/O drive bay.
Interestingly enough, the card also features the ubiquitous proprietary Audigy expansion connector that most people can't figure out how to use, and an AUX_IN connector. My HP computer case just happens to have a compatible front panel connector which plugs right in, allowing me to use my standard headphones and mic connectors.
My preferred settings
I instantly fell in love with Audio Creation Mode, and I will probably keep it in this mode for all of my listening needs. The mixer contains more options than I can currently make sense of (which is always nice :P), and I can also apply specific EAX effects in this mode.
I turned on the Crystalizer and put it exactly in the middle. I turned off the EQ, CMSS 3D (virtual surround), and SVM (smart volume management). I plugged my cheap computer microphone into the FlexiJack on the back of the card, and it works great for things like Skype.
Quirks and Issues
The driver installation went fairly well, save for a cryptic error message and a prompt about an unsigned driver, but it works well otherwise. However, there are a few quirks.
Headphones
I have 2 headphone jacks – the full-size one on the I/O drive and the 3.5mm one on the computer case – and neither of them work properly. While music plays through them just fine, it only lowers the volume of the speakers instead of muting it. The control panel includes an option to mute speakers when headphones are detected, but it mutes the speakers until headphones are connected – and when they are, the speakers and headphones play simultaneously.
Oh well. I wasn't even planning on using this feature because I use my receiver's headphone output anyways.
Distorted MP3 playback
For some reason, MP3s and other files play at about 6dB louder than CDs – this probably has to do with the formats' dynamic range. Thus, MP3s start distorting very quickly. I solved this problem by going into the Multi-Channel Wave tab of Audio Creation Mode and adjusting the "Front L/R" fader to -6.0 dB. (I came to this figure by viewing the Monitor panel and adjusting the volume until most of the red was gone.) Note that the audio still distorts in Entertainment and Gaming modes.
Conclusion
In conclusion, I'm very happy with this card. It is a noticeable improvement over my Audigy 4 in terms of sound quality – but perhaps more importantly, it is a huge improvement in terms of drivers. I can finally use the Sound Blaster features I know and love on my Windows 7 PC.