The HD2 may be a year old, but it's still an impressive, head-turning piece of hardware with specs that would have put my old desktop computer to shame. Despite its giant screen size, it is amazingly thin, light, and pocketable, and feels like a premium product in every way imaginable. I purchased it to replace my aging Samsung Epix and my iPod touch, and so far, it has held up extremely well.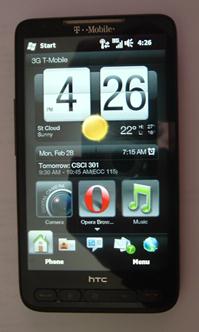 Don't get me wrong: I loved my iPod touch and my Epix, but this was not the optimal solution for me. I don't use iTunes for playing music on my computer, so syncing with iTunes soon became a dreaded operation for me. And quite frankly, I was tired of the whole "why do you have 2 phones?" question that people were asking me, and having one device for calls, another device for music, and both devices with similar but slightly incompatible PDA features wasn't very convenient either.
Hardware
The T-Mobile HD2 boasts a 1 GHz Snapdragon procesor, 576 MB of RAM, and 1 GB of internal storage, in addition to a microSDHC slot that officially supports up to 32 GB of storage. All of this is controlled by a gorgeous 4.3-inch 800x480 capacitive touchscreen and 5 hardware buttons on the bottom. Wireless connectivity options include 3G AWS (compatible with T-Mobile), Wi-Fi Draft N, and Bluetooth, plus an FM radio with RDS support.
There is also a European version of the HD2, which is not branded with the T-Mobile logo, has only 512 MB of internal storage, and supports a different set of 3G bands. It is quite similar to the T-Mobile HD2 in every other way.
Aesthetics
The HD2 is a rectangular device with minimal curvature. The screen bezel is tiny – smaller than than the iPhone's. The battery cover on the back is made of metal, and is sandwiched between soft, premium rubbery plastic on both top and bottom. It's not the thinnest phone in the world, but it's thinner than the iPhone 3GS and is surprisingly light for its size.
5 clickable hardware buttons on the bottom (Send, Home, Start, Back, and End/Power) and 2 volume buttons on the side add a tactile feel to the touchscreen user interface, unlike the capacitive "buttons" found on already buttonless touchscreen phones, which is a welcome break. The lack of excessive curvature, thin bezel, and full-front glass makes the phone look sharp and beautiful at the same time, and in my opinion, this is one of the best-looking phones ever made.
Operating System
The HD2 runs Windows Mobile 6.5 with HTC Sense by default. Most of you are probably groaning and averting your eyes upon hearing those dreaded words, but fear not: this phone can unofficially run multiple flavors of Android, Windows Phone 7, MeeGo Linux, and even a full-fledged desktop version of Ubuntu. Android can optionally be flashed directly onto the phone and completely replace the stock Windows Mobile.
I actually wanted Windows Mobile for various reasons, which will put a different twist on this review from most Windows Mobile-bashing ones out there. Am I crazy? No. I find many flaws in Windows Mobile, but I also see many advantages, at least for me. Windows Mobile seamlessly syncs with Outlook and Exchange, allows me to quickly build and run .exe files from Visual Studio (great for "quickie" apps), has excellent multitasking support, and is fairly open and "hackable." And when I do get tired of Windows Mobile, I will simply upgrade the phone to Android.
HTC Sense
Despite it running Windows Mobile, the HD2 features HTC Sense, which replaces many of the "2003-ish" elements of the system. Sense provides a very pleasant user experience with anything from checking the weather to sending texts. The level of detail and quality is amazing; small animations follow your moves and the weather demo on the home screeen is nothing short of beautiful. Sense replaces the home screen, text messaging app, the clunky Windows Media Player, and even the control panel (though the original one is still accessible).
On the downside, various "2003-ish" elements of Windows Mobile do show through from time to time, which can be quite disconcerting. The big screen makes even the smallest "normal" controls clickable, but it's obvious that this interface was designed for use with a stylus. The HD2 does support stylus use, but you must get a capacitive stylus; typical "plastic pen" styli will not work.
The HD2 is also not quite as intuitive as the iPhone. Multi-finger gestures don't work so well; scrolling is not nearly as smooth and "bouncy" as the iPhone's. Different apps implement their own version of kinetic scrolling since Microsoft's gesture API was tacked onto Windows Mobile 6.5, while previous versions didn't have anything of the sort, further contributing to this problem.
Software
Preinstalled applications include the famous Office Mobile, which allows you to edit Word documents and Excel spreadsheets (among others) directly on your phone, the only downside being the older user interface of these apps. The FM radio application is very intuitive and even displays RDS data from radio stations, although reception is quite poor compared to the radio in my car. The voice recorder is also superb. Google Maps is preloaded and gets a very quick GPS fix on my location; a 30-day trial of TeleNav is included as well for in-car navigation.
Web browser
Opera Mobile and Internet Explorer are pre-loaded out of the box. Each has its advantages and disadvantages, and both can run simultaneously. Opera is faster and renders websites better, but Internet Explorer has full Flash support
Ease of use
This phone is perfect for a tech-savvy person. I can copy my data over to the phone effortlessly, via USB, card reader, or Bluetooth. I can send documents to other phones via Bluetooth and download music files from my server for immediate playback on the device. (There is no need to sync with proprietary software just to put media on the device.) Storage cards can be hot-swapped with other compatible devices: take some pictures on your camera, pop the microSD card into the HD2, and immediately view them on the big screen, without access to a computer.
On the other hand, those of you accustomed to using iTunes as your main media player will miss the ease of syncing music onto the device and buying apps from the App Store on your computer. Windows Marketplace is considered a joke by most, and I generally avoid it. If you want to install a paid app on the HD2, you will need to register it on the phone itself; if you want to put music on the HD2, you will need to dig up the file and transfer it manually. I personally prefer this manual approach, but it's not for everyone.
Camera
The HD2's camera can take 5-megapixel photos and shoot VGA video. While not top-of-the-line, it is definitely a high-end camera for a 2010 phone. Quite frankly, without even a simple lens like the one on a point-and-shoot camera, you won't notice much of a difference between 5 megapixels and 8 megapixels. The camera features an LED flash (which also works in video mode as a frontlight), tap-to-focus, effects, and geotagging.
Input
This is a touchscreen-only phone. I do miss the nice, raised, "clicky" keyboard on my Epix, but the giant screen makes typing quite pleasant. Several keyboards are included by default, including a full QWERTY, a "mini QWERTY" that combines 2 letters per key and relies on predictive text, multitap/T9 (the standard numeric keypad we all remember from our childhood), and Swype. The last one is a novel method of typing that allows you to "swipe" your finger in the general direction of the letters of a word, and the predictive text usually gets it right (and pops up a menu if there is an ambiguity). I haven't used it much, but it looks quite promising.
HD2 vs. iPhone
The iPhone has become the de facto standard for touchscreen phones, so such a comparison is inevitable. In my opinion, the HD2 is a better choice for me than an iPhone. I can copy data directly to the device without going through an intermediary syncing app like iTunes, I can install any application I want to without being subject to an approval process, the screen on the HD2 is bigger, the browser supports Flash, the phone includes an expansion slot and removable battery, and so on.
On the other hand, there are many more apps available for the iPhone. Even with Android installed, the HD2 isn't quite as slick and intuitive, and the browsers can't quite match Safari (unless you're talking about plugins and Flash). There are thousands of accessories available for the iPhone, and very few for the HD2. The iPhone 4's Retina display has a slightly higher resolution than the HD2's (though the HD2 dwarfs the 3GS on down). In the end, I'd say these are quite comparable, and you should choose based on your own needs.
Conclusion
I bought the HD2 used for around $250, and I must say that it is one of the best purchases I have ever made. It's quirky, it's new to me, and it's not perfect, but I'm sure that as I get to know it better, I will have a long-lasting "tech-friendship" with it. It has all but replaced my iPod touch even now.