Multiscreen Blank v2 is an easy-to-use utility that allows you to independently blank out or dim one or more monitors connected to your computer, as well as mirroring the contents of screens that are physically located in another room or turned off. Monitors fade in and out with smooth transitions.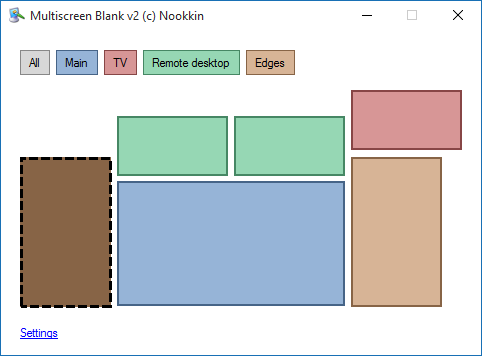 Some possible uses include:
Fading out a projector during a presentation while switching slides
Blanking out unused monitors in a multi-monitor setup to reduce distraction
Selectively blanking out parts of a commercial video wall
Dimming one or more screens while continuing to use them
Screen mirroring for monitors that may be physically located in another room or turned off
This is a major update to the original Multiscreen Blank application that has developed a small but devoted following of users. The update brings a reimagined, considerably more intuitive user interface and includes many new features requested by users over the years.
SUPPORT STATUS: This program is actively supported. You are encouraged to send suggestions and bug reports to the developer.
Basic Operation
Multiscreen Blank displays your current monitor configuration in a scaled visual representation. This eliminates guesswork in trying to figure out which monitor is #1 or #5 since Windows can arbitrarily re-order them. Here are some basic operational concepts:
Double click on a monitor icon to toggle its state
Single click on a monitor icon to add it to the selection. Click in the blank area around the monitor icons to clear the selection.
Click and drag over several monitor icons to select them
Right click on a monitor icon for more options, including the option to blank/reveal all selected monitors, place them in a group, or invert the current selection.
You can rename individual monitors with a friendly name to make them easier to identify. This is especially useful for context menus that don't display the relative position of the monitor -- if a friendly name is not specified, the device ID or virtual bounds will be used as the "name" instead.
Additionally, you may double click anywhere on a blanked monitor to reveal it or right click for more options. (Note that the mouse cursor will be invisible unless you have enabled it in settings.)
Groups
Monitors may be placed into groups to make it easier to select and blank/reveal logically-related displays. Groups can be added, renamed, or deleted at any time, and appear as colored buttons at the top of the window. Group colors will match up with monitor colors so you can identify group membership at a glance.
By default, all monitors are members of the first group, but this group is hidden. Right-click on the blank space to the right of the list of groups to add a new group. Click on a group button to select all monitors in that group. Right-click to blank or reveal all monitors in the group, select the group (or everything outside of it), or make changes to the group itself.
The "All" group is a special group that is always present. It allows you to quickly select every monitor and provides a quick and easy way to blank all but the primary monitor. The primary monitor is defined in the Windows control panel and generally corresponds to the monitor that your taskbar appears on.
Virtual Screens
If you have a hardware-based screen splitter solution (such as a Matrox TripleHead2Go or various commercial video wall controllers) that splits a single logical monitor across multiple physical displays, you can set up virtual screens in Multiscreen Blank to allow you to still blank each physical display independently. Virtual screens will appear within Multiscreen Blank as if they were physical monitors and may be selected, added to groups, and so on.
Screen Mirroring
Each screen can have its contents mirrored in a window. This is useful for viewing what's on an output device that's turned off or physically located in another room. Right-click on a screen and click "Mirror" to open the screen mirroring window.
When the screen mirroring window is open, you can right-click for options (including making it full screen or adjusting aspect ratio of the image). You can also toggle the blank/revealed state of the mirrored screen.
This feature has 3 significant limitations to be aware of:
You cannot view the contents of a blanked screen. This is because it's impossible to capture what's underneath a window using conventional methods and MultiscreenBlank's "blanking" involves placing a black window over the top of everything else. (It may be possible to do this through DWM which independently renders each window, but that's an exercise for the future.)
Low frame rate due to software rendering. This feature is intended for finding items on remote screens, not replacing the functionality of a hardware splitter.
Inability to mirror DRM-protected or hardware-overlay content. DRM-protected video output cannot be mirrored because the operating system prevents it from being captured.
Notification Area Icon
Much of Multiscreen Blank's functionality can be accessed from its notification area icon. Minimizing the main application window will minimize it to the tray, and double-clicking on the notification area icon will restore it. Right-clicking on the icon will present you with a menu of options. You may toggle individual screens (listed by bounding rectangle), blank/reveal groups of monitors, and quickly blank/reveal all screens, without opening the main window.
Command-line Arguments
Multiscreen Blank supports multiple command-line arguments in order to allow scripting of screen blanking/revealing. Since it is a single-instance application, you may run multiple commands in sequence and they won't open multiple copies of the application. The following basic command-line switches are supported:
/minimized
Starts the application minimized. You may double-click on the notification area icon to restore the main application window. This argument may be combined with other arguments that make sense, e.g. monitor operations, but must appear first in that case.
/quit
Closes the application. This is useful for batch scripts where you need to run the program for a bit and then close it at the end.
/reset
If something went wrong and you can't get the program to open normally without crashing, you may reset its configuration to factory defaults by passing in this argument.
Operations: /blank, /reveal, /toggle, /dimXX
Performs the specified operation on the specified set of screens. You may define screens either by Windows hardware ID, group ID, or bounding rectangle. You may specify one or more monitors this way, but keep in mind that you may specify only existing monitors that show up in the UI (not arbitrary regions). The bounds and hardware ID may be obtained by right-clicking on the monitor in the main UI and clicking "Information..."
The following operations are available:
blank: Blanks the specified screen, i.e. fully fades it to black. Double-clicking on the screen will reveal it.
reveal: Reveals the specified screen.
toggle: If the screen is blank, reveals it. If the screen is not blank (including fully revealed or partially dimmed), blanks it. This operation applies to each screen individually – if screens A and B are blank while screen C is revealed, the result will be screens A and B being revealed while screen C is blanked. Toggling a dimmed screen will blank it.
dimXX where XX is a number from 00 to 99 : Dims the screen to the specified amount. A dimmed screen still allows you to interact with on-screen elements normally.
The following selectors are available:
bounds: allows you to specify a monitor via bounding rectangle.
id: allows you to specify a monitor via hardware ID.
group: allows you to specify a monitor via group number.
current: specifies the screen currently containing the mouse.
all: allows you to specify all monitors.
allexcept: modifier that inverts the selection.
Blank the second monitor according to Windows hardware ID
MultiscreenBlank2 /blank id \\.\DISPLAY2
Blank the logical monitor located at (1920,0,1920,1200)
This corresponds to the rightmost monitor in a dual-monitor configuration where both monitors have a resolution of 1920x1200 pixels and are arranged horizontally in landscape orientation.
MultiscreenBlank2 /blank bounds 1920,0,1920,1200
Blank all monitors in the second group
Group indices start with 0, so the first group is 0, second group is 1, etc.
MultiscreenBlank2 /blank group 1
Combination of the three examples above
Order of the operands does not matter as the operation will be applied to all monitors simultaneously. It's OK to overlap, e.g. if a given monitor selected by bounds is also a member of the specified group.
MultiscreenBlank2 /blank id \\.\DISPLAY2 bounds 1920,0,1920,1200 group 1
Blank the monitor that the mouse is currently on
You may track the monitor the mouse is currently on with the "current" selector.
MultiscreenBlank2 /blank current
Blank all
When you specify "all", there is no logical benefit to specifying additional monitors since you've already specified all possible monitors. This will blank every monitor including the primary one that the main Multiscreen Blank window is on, so you will need to double-click on that screen in order to reveal it.
MultiscreenBlank2 /all
Blank all except the primary
The "allexcept" operator must appear immediately after the "/blank" switch.
MultiscreenBlank2 /blank allexcept id \\.\DISPLAY1
Final notes
The /toggle operation is applied at the screen level (not the group level) so if some of the monitors in a group are blank, they will be revealed (and the currently-revealed ones in that group will be blanked).
Dimming a monitor will apply regardless of current state (blank or revealed). Dimmed monitors are considered "revealed" for the purposes of the toggle operation, so toggling a dimmed monitor will fully blank it.
Dimming a monitor to 100% is the same as blanking. Dimming to 0% is the same as revealing.
Settings
Multiscreen Blank will remember the window layout and group assignment. Additionally, it has several options you may configure.
Start with Windows
Multiscreen Blank can be started with Windows – this will cause it to open minimized, in the notification area near the clock. This will save you a click if you routinely use Multiscreen Blank whenever you turn on your computer.
Add to desktop right-click menu
On Windows Vista and above, you can add a "Blank this screen" option to the desktop's right-click menu. This will blank the screen under the mouse cursor. If Multiscreen Blank is not currently running, it will be automatically started.
Check for Updates
If checked, you will receive a small, unobtrusive notification in the main window when a new version is available. There won't be any popups and the program will not update itself at this time. Uncheck this to prevent the program from attempting to check for updates.
Theme
MultiscreenBlank includes a light and dark theme to best match other software you use. The theme will not affect blanking functionality, only the color of the main window and menus. "Automatic" will select the light or dark theme based on your system's settings.
Blanking details
You can also configure blanking details: the fade duration, the easing function used for fading in and out, and whether or not to show the mouse cursor on blanked screens.
Configuration storage
Settings are stored in a .ini file in the application directory. Alternatively, settings may be redirected to a user-specific directory if the application is installed to a shared folder. This file can be easily backed up and transferred to other systems (provided that the screen configuration is the same).
Troubleshooting
Desktop context menu entry remains after uninstalling / errors at startup after uninstalling
Multiscreen Blank is a standalone application and does not come with its own uninstaller. If you have enabled the desktop right-click option or configured the program to start with Windows, Windows has no way of knowing that the program was removed. Be sure to un-check both options in the Settings dialog before deleting MultiscreenBlank2.exe. If you have already deleted the file, you will need to run it again and toggle the options.
Alternatively you can manually delete the associated registry keys.
Start with Windows
HKEY_CURRENT_USER\SOFTWARE\Microsoft\Windows\CurrentVersion\Run\MultiscreenBlank
Add to desktop context menu
HKEY_CURRENT_USER\SOFTWARE\Classes\Directory\Background\shell\MultiscreenBlank
Desktop context menu entry doesn't appear on Windows 2000 or XP
The menu relies on Windows functionality available in Windows Vista or later.
Windows DPI scaling
Starting with version 2.1, Multiscreen Blank supports Windows 10's per-monitor DPI scaling mode natively. All operations use physical device pixels. If you have a configuration file from a previous version of Multiscreen Blank, your group definitions may need to be redefined.
Due to the nature of Windows DPI scaling, it's possible that some configurations will cause the program to incorrectly determine physical monitor bounds, especially after switching scaling modes or adding/removing monitors with different scaling factors. If you are experiencing problems related to scaling (such as only part of the screen being blanked), sign out of Windows and tryt again.
If all else fails...
You may reset Multiscreen Blank's settings by running it with the "/reset" command-line argument or by manually deleting the MultiscreenBlank2.ini file where its settings are stored.
Feel free to reach out in the comments if you are experiencing an issue not outlined above.
License
You are allowed to use Multiscreen Blank with virtually no restrictions, i.e. you may use it for both private and commercial settings free of charge. However, you may NOT use this software as part of your own projects or compilations without permission from the developer.